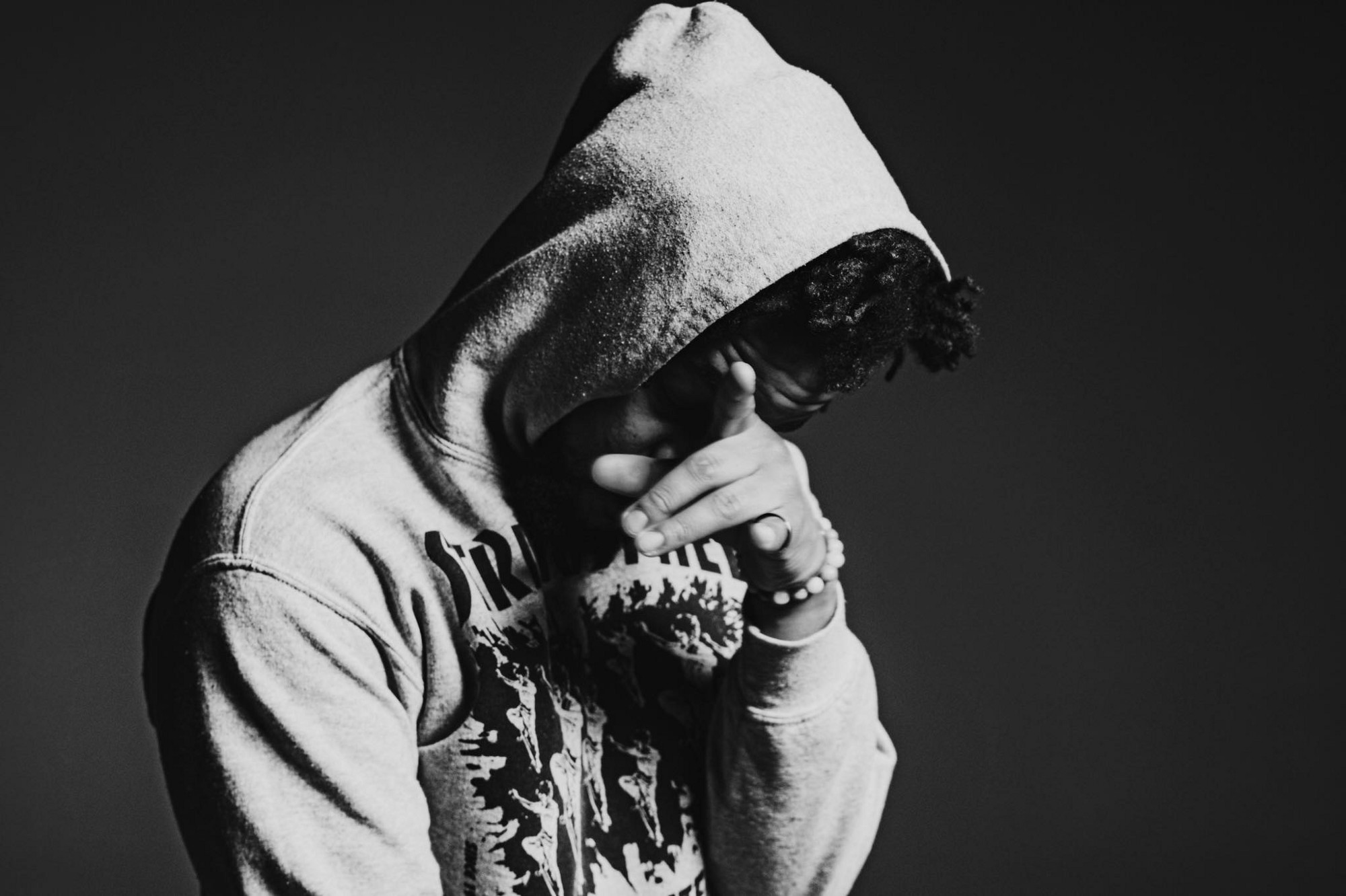 "It's Pretty Hard for Me to Function as a Normal Human Being All the Time": A Candid Conversation with STLNDRMS About Balance, Creative Highs and Lows, and Avoiding Social Isolation
Text: Gino Sorcinelli
Music: STLNDRMS (listen to stlndrms soundcloud bottom of page ↓)
Although the general public often has a highly glamorized perception of the music industry, the reality is that musician's lives are filled with endless meetings, studio sessions, time away from family, intense financial burdens and expectations, and hyperanalysis from fans and the press—especially in the age of social media. In short, the life of a modern musician can be a difficult existence.
The stresses of the music industry may be soul-crushing for some, but 36-year-old Atlanta-based producer STLNDRMS' (pronounced "stolen drums:) early years as a creator were rather idyllic. While serving a three-year stint in Italy in the United States Air Force as a senior airman (and cable/satellite communications technician, he made his first beat in 2001 with no musical training to speak of. After leaving the Air Force in 2002, the aspiring artist spent the next four years honing his skills and working several different tech jobs in the communications industry to help pay the bills.
When he found a niche for his music in Japan in 2006, it seemed as though he had landed a dream job.
"I had a licensing deal in Tokyo with PlatinumGames/Sega for the PS3 and Wii games Anarchy Reigns and Mad World," he said. "I was also doing a lot of local shows and promoting shows—it was a really good time for me creatively."
However, the good times were short-lived, as the harsh financial realities of living abroad in a costly city soon became unavoidable. According to a 2009 Forbes article, a simple bus ride, cup of coffee, and newspaper in Tokyo cost $11.70 towards the end of STLNDRMS' stint in Japan, almost 25 percent more than the items would cost in New York City.
"Tokyo at that point in time was really expensive, so I still had a day job for a company called Computer Science Corporation (CSC)," he said. "I did graphic design and built blueprints and assembly schematics for telecommunications equipment in Japan. That day job didn't work out and they lost the contract that they were working on."
The unexpected loss of a vital revenue stream forced STLNDRMS, his wife, and their two sons to leave the fertile creative environment he'd built for himself in Japan and head back to the U.S. in 2009.
"I hopped on a plane and hopped off and it was like I was in a new planet. When I got back to the States, nobody cared about the stuff I did in Japan. So I started from ground zero."
Though he tried to connect with local artists and tastemakers in Atlanta and sought out new platforms for his instrumental creations, STLNDRMS' success overseas didn't translate to America. In less than a year, his once thriving existence as a working musician had pretty much dried up.
"Within six months of me being back, my career was gone. I didn't have it anymore. I wanted to create more, but I just didn't have traction or anywhere to put this stuff, or anything to do with it," he said. "It just seemed like, 'Nobody cares why you are doing this?'"
The lack of success led to an extended low point starting in 2011 where he almost stepped away from making music for good.
"I got super depressed for a bit and was like, 'Man, I don't even want to do this no more,'" he said. "I took a five-year hiatus, worked a regular job and all of that. Just kind of pushed it to the left."
During the hiatus STLNDRMS sold much of his music gear and put most of his time and energy into photography to make ends meet. Though he was able to build a strong resume as a photographer that included clients such as Complex Magazine and rappers Future, Jeezy, Schoolboy Q, and Stalley, he still felt like something was missing without music playing a central role in his life.
"That creative outlet is a major part of everything," he said. "During that time I wasn't creating music, I didn't feel like myself. I felt like it was a different person that existed during that time frame."
After distancing himself from making beats for five years, an opportunity to reconnect with his true passion presented itself in 2016 when a friend offered to fly him back to Japan for some freelance music video work. Once STLNDRMS arrived in Japan, his friend was surprised to learn that he'd given up music entirely and suggested they take a trip to a local recording studio.
"We went to the studio and worked on some stuff and then that was it," he said. "I just needed to be in that same space again."
Though STLNDRMS is wary of putting his entire self-worth into his success as a producer, he has come to terms with the fact that it is an integral part of his identity.
"I feel like I'm me when I'm being prolific and making things," he said. "Maybe I put too much value on the creative process or whatever, but I feel like I'm actually inside of my own skin for lack of a better term."
STLNDRMS has had quite a triumphant return to the world of instrumental production. Through careful use of video tutorials on Facebook, Instagram, and Twitter, he has built a loyal following of fans and understudies. Using his growing online presence to create a live collaborative show, he co-founded the successful weekly beat performance and anime event Controllerise. Late 2017 and early 2018 also saw SLTNDRMS perform at A3C, one of the world's largest hip-hop festivals, and he played a live set during Art, Beats & Lyrics at Mercedes-Benz Stadium in Atlanta.
This recent success and increased visibility also led to a noticeable surge in the performance of his digital catalog. As of April 2017, STLNDRMS passed 2.6 million streams on Spotify with a healthy monthly average of 97,000 spins. Spotify quickly took note and featured him on the cover of the Lofi Hip-Hop playlist in January 2018.
Despite his achievements, STLNDRMS remains mindful of how quickly the tides can turn. With his career at an unprecedented high, he wants to preserve the momentum without running himself into the ground. That means taking care of himself and those around him while acknowledging when a well-deserved break is needed.
"Everything goes in cycles," he said. "Versus burning out, it makes way more sense to step away and take some time to relax. I take little mini-breaks."
During his mini breaks, STLNDRMS gives himself permission to stop making music and find other ways to occupy himself. This helps him avoid burnout while maintaining a solid energy level.
"I may not create for a week or two and just facilitate the stuff I've already made," he said.
His facilitation includes networking and reaching out to other artists, managing his various social media accounts, uploading music and video from his cache of unreleased material, and re-introducing previous releases to his listeners.
Another aspect of producer life that STLNDRMS has to navigate is forcing himself to interact with other people. In the hyper-connected digital age, it is easy to have most interactions happen indirectly through some form of social media. This is especially true for power uses who create online tutorials or webinars. Though such videos are a big part of STLNDRMS' success, he's pushing himself to get away from his workstation and interact with people face to face more consistently.
"You can't exist without other people," he said. "We're social beings. You have to be able to share and communicate to have fellowship with other folks and to be a healthy human being. It's something I struggle with for sure."
Even though socializing can be a struggle for the self-professed introvert who prefers watching anime and recording in his home studio, it's an essential part of maintaining his mental wellness as a creator.
"I definitely find myself in better spirits when I can spend time with other people in a productive manner," he said. "If you can share an experience with someone else, even if it's just eating lunch, it's important to do that on a regular basis."
Family is another aspect of balancing music life with real life that he's putting some increased energy into. A self-described "work addict," STLNDRMS is mindful of how his demanding work schedule can affect his duties as a husband and father to his sons, who are 16 and nine.
"I'm not the best at all of the family stuff," STLNDRMS admitted. "I can lock myself in a room for hours and hours at a time on a pretty regular basis, so it's pretty hard for me to function as a normal human being all the time. But I think it's important to attempt to."
After reflecting on the good practices he's trying to apply to his life, STLNDRMS also has a piece of valuable advice to other creators who might be in an earlier stage of their careers.
"Your struggle is definitely partially responsible for your success," he says. "In my situation, that dark time is directly responsible for whatever good times I'm having now."
However, he is quick to point out that is important for artists to recognize when the struggle becomes all-consuming and act accordingly.
"Yeah, you do have to struggle," he said. "But be cognizant of when you're struggling. If you're in an unhealthy place mentally, if you want to hurt yourself or you feel like doing some damage to something, you may want to get out and try and find some way to deal with those feelings versus just sitting with them."
As he continues to navigate the sometimes difficult journey of making a living as a musician while maintaining healthy relationships with friends and family, STLNDRMS admits he still has much to learn himself. For now, he's embracing the process and trying his best to live by a simple mantra: "Life is good, time is precious, make people smile."